Environmentally friendly materials are becoming an increasingly popular choice for anyone building a new home or redecorating their existing one. It used to be the case that if you wanted to make an environmental friendly choice you would have to take the bland, expensive option. Fortunately, more and more manufacturers are realizing the importance buyers are placing on how something is made. There is now a range of exciting, eco-friendly flooring solutions which you can use in your home:
Cork
Cork is made from the bark of the cork oak tree; which is generally found in the Mediterranean. The bark can be harvested without damaging the trees and each tree is capable of being harvested every three years. This means it is a very sustainable material. It can also be coated in a wide variety of color paints and a floor made ofcork should last between ten and thirty years.
Bamboo
Bamboo grows very quickly and, again, the tree does not need to be destroyed to harvest the wood. It can be used to make a very durable floor and can even be created in a variety of hues to suit any color room. The bamboo plant can re-grow within a three to five year period which makes it a very sustainable product.
Eco-Friendly Flooring Solutions That Are Anything But Boring!
Click To Tweet
Linoleum
This is not the same as vinyl! Vinyl flooring is not environmental friendly. Linoleum is a mixture of linseed oil, cork dust, tree resins, limestone and wood floor. This product has been available since the early 1900's. It is incredibly durable and comes in a choice of colors and styles, the latest versions are also coated to prevent stains marking it. In common with cork it is fire retardant and water resistant.
Glass Tiles
These will inspire you to put more of your empty glass bottles into the recycling bin! The old bottles are turned into glass tiles and are available in a multitude of different hues. They are perfect for any floor and will even bounce additional light into your home! It is also easy to look after!
Concrete
This may seem like a surprising addition but polished concrete is becoming a popular, sustainable choice. It has an incredibly long lifespan, is very durable and lends itself nicely to creating customized designs. When polished it can be tinted to create the exact color and style you want and will never need to be re-done!
Wool Carpet
Sometimes carpet is the only thing which will do. It is soft underfoot and warm both to your feet and to the room in general. It is a sustainable material which can easily be spun into a carpet and then dyed almost any color you can think of.
P.E.T. barber carpet
This carpet is made from recycled plastic bottles! It can be created in a variety of colors and patterns and is exceptionally durable; making it a good option for almost any color scheme. However, it should be noted that it is not the most comfortable floor surface to walk on in bare feet.  It is also possibly to snag the carpet and, if this is not repaired quickly, it can unravel the entire carpet!
Rubber
Rubber has been used for many years in playgrounds and even gyms. It is soft, warm and water resistant. It is also made from old car tires making it an excellent flooring choice for protecting the environment from further damage. Rubber can be made in a wide variety of colors and patterns; there will be one which suits your needs, and if you can't make a decision you can always consult with a rubber mats supplier to help you make a choice.
Leather
You have probably seen leather rugs before and it is possible to create leather carpets. They are warm underfoot and very durable although they are nit water resistant and, therefore, not a good option for your kitchen or bathroom.
Hardwood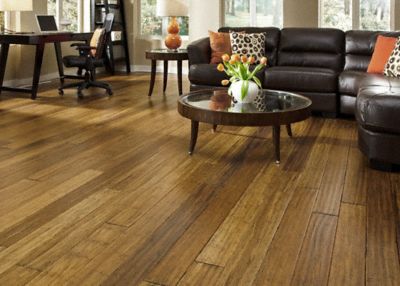 Hardwood flooring is an exceptionally popular and versatile flooring choice. It is possible to buy this type of flooring which has been created from either sustainable wood or reclaimed wood. Either prevents the need for chopping down additional trees and the flooring can be stained any color you like.
Whatever your tastes, there is sure to be at least one eco-friendly flooring product you'll love!
–ABOUT.COM