Downgraded from hold to sell with a target price of 82 sen: The consortium of Samsung C&T Corp and UEM Group Bhd has secured the KL118 Tower project from the project owner, Permodalan Nasional Bhd, at a contract sum of RM3.4 billion.
The 118-storey skyscraper with a height of over 600m will be the tallest building in Southeast Asia upon completion by 2019.
We see Eversendai as a front runner to secure the structural steel works of the KL118 tower project for the following three reasons.
Firstly, strong capability and track record of being a specialised structural steel turnkey contractor led by executive chairman and managing director Tan Sri A K Nathan.
The group had completed works for several iconic buildings and skyscrapers. These include erections of tower head and spire steel for KL Tower, fabrication and erection of steel structure for Petronas Twin Tower 2, erection of the sky bridge connecting Petronas Twin Tower 1 and 2, erection of the steel structure for the sail-silhouetted Burj Al Arab Hotel in Dubai, involvements in Emirates Towers, Rose Rayhaan Rotana Tower, Index Tower,  Capital Market Authority Tower and last but not least, erection of the structural steel work, including the steel spire for the Burj Khalifa, the world's tallest building at 828m high.
Secondly, the favourable relationship with Samsung Eversendai has established a working relationship of more than 20 years with Samsung since their collaboration in the Petronas Twin Tower project in 1994.
Subsequently, they have worked together in various projects such as the Burj Khalifa in Dubai, Cleveland Clinic in Abu Dhabi, Sabah Oil & Gas Terminal, Worli Mixed Use Development in India, Hub Zero Family Entertainment Centre in Dubai, and Dhirubhai Ambani International Convention and Exhibition Centre in India.
Thirdly, its home ground advantage. Being a home-grown player with manufacturing facilities nearby, we see Eversendai having some advantages against its competitors in terms of mobilisation and logistics costs, familiarity with the surroundings of the site and supporting services providers.
Besides, we do not see any local steel players that are comparable with Eversendai in terms of execution capability and track record.
Moreover, Eversendai was involved in the construction of the two tallest structures in Malaysia — the Petronas Twin Towers and KL Tower.
For the reasons above, we see Eversendai as a favourite to secure the structural steel works for the KL118 Tower.
We estimate the contract sum for the  structural steel package to range between 8% and 10% of the main building works, or about RM290 million to RM360 million.
While we are positive on its prospect of securing the sub-contract works for the KL118 project, we are concerned about the uncertainties arising from the plunge in crude oil price.
The sharp fall in oil price could affect the public and private spending on infrastructure and building projects in the Gulf states, from which Eversendai generates the majority of its revenue.
It was reported that Saudi Arabia was delaying payments to government contractors for six months or more as the slump in oil price had pushed the country into a budget deficit for the first time since 2009.
While we believe Qatar, which has a considerably stronger financial position among the members of the Gulf Cooperation Council, will continue with the execution of ongoing infrastructure construction projects and facilities for the Fifa World Cup 2022, we do not rule out the possibility of the government prioritising future projects and shelves less crucial projects if crude oil price stays low.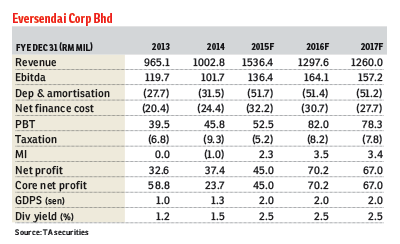 This situation may lead to stiffer competition among contractors contesting for the shrinking pie of projects in the Gulf states, and hence possibly lower project margins.
There is no change to our earnings forecasts and our FY15/FY16/FY17 order book replenishment assumption of RM1.5 billion, RM1.2 billion and RM1.2 billion respectively.
Given the increasing uncertainties arising from low crude oil price, increased net gearing level to 0.57 times (end-September 2015) from 0.22 times (end-December 2014), and increased receivables to RM1.5 billion (end-September 2015) from RM861 million (end-December 2014) in line with higher revenue in the nine-month ended Sept 30, we arrive at a lower target price of 82 sen from 91 sen previously, based on nine times calendar year 2016 earnings per share, after applying a 10% discount to our target price earnings multiple of 10 times.
— TA SECURITIES