When it comes to home decor, there are some things we love to think about, and others that we tend to gloss over. Window treatments definitely find themselves on that list of home decorating tasks that don't exactly captivate. But the fact of the matter is that your windows can be every bit as stunning as the rest of your room – maybe even more. But you have to have the basics down first. So whether you're stuck deciding between drapes and shades, or you're not sure where to find the proper hardware, or you have everything but you're not sure where exactly to install the window treatment.
Here are a few basic tips that will help you find the best window treatments for every room in your home.
For The Bedroom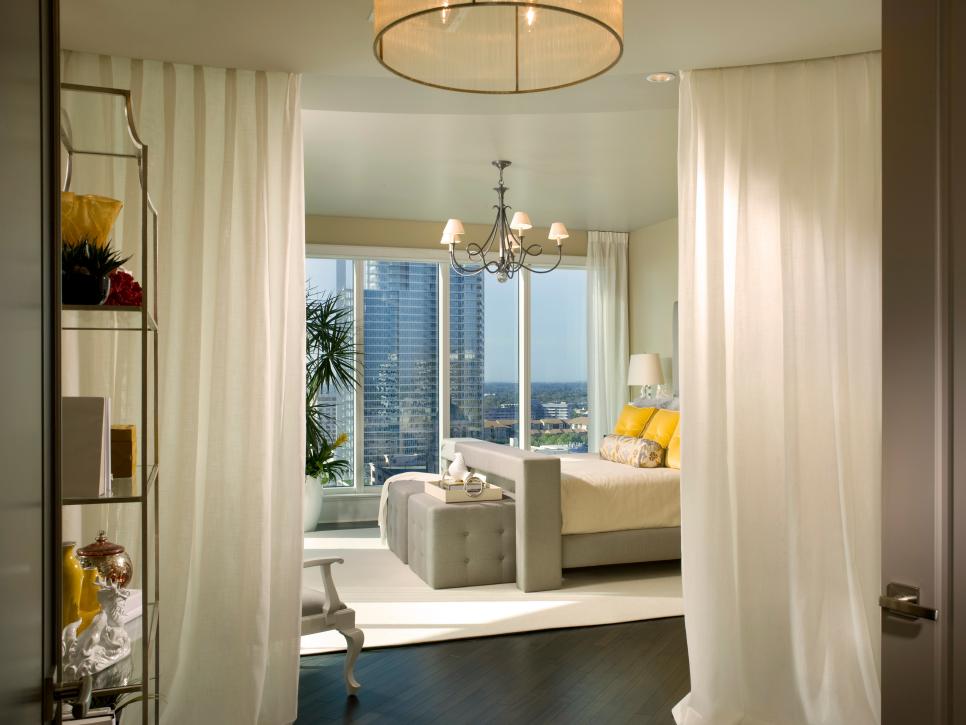 When it comes to selecting the proper window treatment for your bedroom, you need to take into consideration both privacy and light filtering. The best way to achieve a win-win situation here is to select a double rod for your bedroom, and layer two different kinds of window treatments. In this bedroom, the ceiling mounted window treatment is a great idea because the drapery has a black out lining, meaning that no light can come through, thus ensuring privacy while making it much easier to sleep in on the weekends.
The blackout curtains are then layered with a ripple fold drapery that brings in a ton of light when the heavier curtains are pulled away.
Window Treatments For Every Room In The Home Click To Tweet
For The Bathroom
In the bathroom, the key to getting the right window treatment is choosing a material that is mildew resistant and durable enough to deal with the daily humidity of the bathroom. These light filtering honeycomb shades are a great option, because they allow ample light to come into the bathroom without compromising your privacy. Plus, they are so soft and light that you'll hardly notice them in the room.
 For The Kitchen
Some rooms and window treatments just go together. And you can't go wrong in the kitchen with any style of a roman shade. This kitchen features a relaxed roman shade, which is a great idea with an inside mount, because the higher you raise the shades the more pronounced the sag becomes – adding a classic, elegant touch to the kitchen. Plus, the higher up the shade is the less likely it is to get dirty, so you can keep your shades in good shape and bring lots of light into the room while cooking.
For The Living Room
Living rooms see more turnover, in terms of decorating, than any other room in the home. And since window treatments can be such an investment, you want to select something for your living room that is timeless enough to last through multiple updates. This living room is a great example of selecting a window treatment that is neutral enough to work with most of the color palettes you might bring into your room.
By layering the space with both drapery and light filtering roman shades, you'll find that you have a lot of flexibility for how to layer your window treatments throughout the year.
In The Dining Room
If you have a breakfast nook, or a dining room similar to this space, here is a look you may want to consider recreating. The window treatment in this room consists of roman shades with a blackout lining, making it easy to control the amount of light coming into the room. Also, choosing a treatment with an inside mount instead of an outside mount allows the wood trim of the window to stand out, creating a modern look for your dining room.
As a result, this dining room looks clean, light, and effortlessly chic.
For The Home Office
In your study, den or home office, finding the right window treatment is very important. Sun glare can reflect on your computer screen and effect your work productivity if the space is too bright or leave you struggling to maintain your energy in a room that's too dark. A solar shade diffuses light, reduces glare, and helps to regulate the temperature in the room. These solar shades are a perfect option for your space for both style and function.
–ABOUT.COM
Like this article or found it helpful? Share it!
Follow us on Twitter for more news, tips and inspiration. Become our mate on Facebook and explore our Pinterest boards.